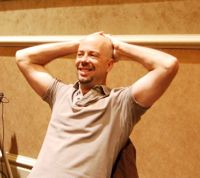 World champion is on one of the best runs in his nearly 25-year professional career. Not only did he win the prestigious Norman Kay Platinum Pairs in Reno with long-time partner Eric Greco, but he followed up by winning the US Trials as a member of the DIAMOND team, which he has been an integral part of for over 7 years. Today, Geoff enters the Well to answer any questions you may have.
Geoffrey Hampson was born in Toronto, Ontario. His parents were each well-known musicians in Toronto. His father played bass in a folk band called the Travellers and his mother is Sharon of Sharon, Lois, & Bram, a famous children's music group.
He learned to count points at the kitchen table on his father's knee at around six years old, but didn't start to play until high school. "A teacher taught the entire class how to play by issuing a printout of most basic rules," explained Geoff. "The class quickly became addicted, and I never found the cure."
Geoff's first WBF medal came when he finished second in the 1991 World Junior Teams in Ann Arbor, Michigan, playing for Canada. A year later, he finished second in the Pan-American Games Open Teams in partnership with John Gowdy. After moving to the United States, Geoff added a gold medal in the 2010 Rosenblum and bronze medals in the 2005 Bermuda Bowl and 2014 Rosenblum.
Geoff won his first major domestic event at just 22 - the Canadian National Teams Championship, playing with John Gowdy. A year later, he claimed his first NABC title - the North American Swiss, playing with Mark Molson. He has since added over 16 NABC titles to that one, including 2 Spingolds, the Reisinger, the Life Master Pairs, and now the Platinum Pairs.
Away from the table, Geoff is an avid sportsman. Growing up, he played hockey with future NHL players, skating at Maple Leaf Gardens several times (although not strictly based on talent). He was also into baseball and became pretty good at it. Later in life he got into skiing -- he still tries to get a ski trip in when he can. After moving to Michigan at age 25 to pursue a career in bridge, he took up golf and has been duffing ever since. His attempts to dominate on the squash court took a serious hit when he ruptured his Achilles tendon in 2013.
In addition to his focus on excellence in bridge and sports, Geoff also appreciates less competitive endeavors. He's a serious movie buff, having watched many movies in his spare time, and he has been a Game of Thrones fan since the books came out in the 1990s. Last year, he married former US Junior Team member Lindsay Pearlman. He now lives in West Las Vegas with her and his Newfoundland dog Atlas.
Geoff isn't shy about making his opinions known. If you have a question for him, just write one in the comments area and he'll answer to the best of his ability!